New Results from AMS, Speculation on Dark Matter
Submitted by

ibuder

on Thu, 05/02/2013 - 16:36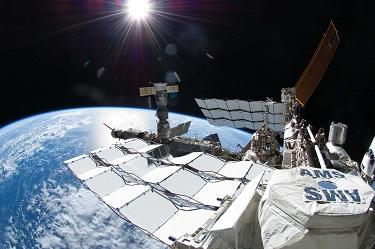 Last month the Alpha Magnetic Spectrometer (AMS) team reported a new measurement of positrons in cosmic rays (journal article, less technical summary and commentary). The results imply that new, not yet understood physical processes are producing more positrons than expected at high energies.
Positrons are elementary particles that are antiparticles of the more common electrons. They have the same physical properties, except that their charges are opposite. When positrons and electrons meet, they can annihilate, leaving only photons (particles of light). Antimatter, such as positrons, can be produced by interactions of highly energetic cosmic ray particles in space. However, conventional models predicted that the fraction of positrons (compared to electrons) would decrease at higher energies. Instead, the AMS team found the positron fraction increases at high energies (above 10 GeV).
These findings imply new astrophysical sources of antimatter. One exciting possibility is that the excess positrons come from dark matter annihilation. Dark matter makes up 85% of the matter in the Universe, and scientists have been searching for it for decades. However, other astrophysical models can explain the AMS results without invoking dark matter. Only more experimental data will reveal the source of the high-energy positrons.
AMS is an instrument aboard the International Space Station. AMS photo courtesy of NASA