Antarctica 2012--2013 Part 5
Submitted by

ibuder

on Sat, 04/27/2013 - 15:16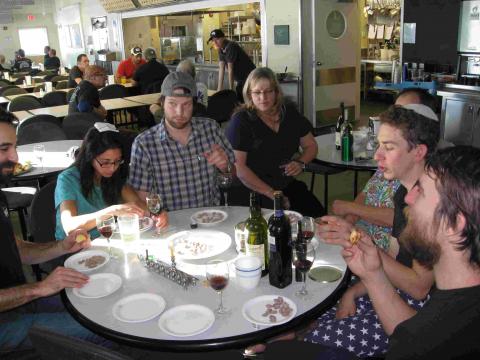 I was already getting cold standing outside the station so I was happy to head inside. First they showed us a 10 minute briefing video, and then they sent us to lunch. It was cafeteria style with a few options including vegetarian. So far quality has been good, but not amazing.
After lunch, one of my colleagues gave me a tour of the main ("Elevated") station. There are three housing wings, a small lab, computer lab, cafeteria, gym, sauna, tiny store and post office. My room is on the first floor, a 6 ft. by 10 ft. cubicle with tiny bed, desk, dresser, and closet. Fortunately it has no windows so when I turn out the light it's actually dark and I can sleep. Again we are on permanent quiet hours to allow everyone to sleep in shifts.
Everyone suggested I stay inside the first day and rest so I didn't take all the pictures I was keen to. Instead I unpacked, got my computer set up, bought souvenirs, etc. A little on the internet situation: there are three satellite systems that connect South Pole to the internet. GOES is up for a long time (~ 7 hours), but it's slow. TDRS/SPTR is up for 4 hours. It's faster, but sometimes they have to split the four hours into smaller chunks because we're not top priority for the TDRS system. Finally, there's Skynet for another 4 hours, but it's new and not as reliable. It's only possible to make phone calls when one of the satellites is up, and even then the quality varies.
I was surprised to discover a Channukah party after dinner. We lit candles, told an abbreviated version of the Channukah story, and played dreidel. We got about 10 people to show up, which wasn't bad for a total station population of 150.
I went to bed early to combat the altitude, drugs (see below), jetlag, and general fatigue.
Now I'm feeling the usual side effect of the altitude medication (Diamox): my fingers are constantly tingly. It feels like they're waking up from being asleep, except they never wake up. I'll be done with the course of medication in another 2 days. At least I'm familiar with the altitude effects from my work in Chile.
In the next segment, working at the South Pole.